Customization
The great thing about open source applications is the amount of flexibility they offer. We can work with you on putting together the right application that fits into your business environment.



Training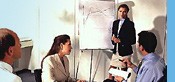 We offer many forms of training to bring your company up to speed when using open source applications. Since the applications are free, there is often very limited documentation and user support. That's where are company comes in.

Support

Based on the package that you select, we offer a wide variety of support options. Browse through the Package page and pick the one that meets your needs.